Entries tagged as famille addams
Friday, January 7. 2011
Joyeux anniversaire, Charles Addams.
        Charles Samuel Addams est né un dimanche 7 Janvier 1912, à Westfield, dans le New Jersey, fils du mariage de Grace M. Spears (1879 - 1943) et de Charles Huey Addams (1873 - 1932), ancien architecte naval devenu manager dans une entreprise de réparation ou de fabrication de pianos (?).
Sa famille habitait alors à Summit Avenue et déménagea souvent durant les huit premières années de sa vie, mais finit par se poser au 552 Elm Street de 1920 à 1947. Le jeune Charles s'influença des œuvres de Poe et de Doyle, de ses visites scolaires (avec l'école publique de Westfield) au cimetière presbytérien de Mountain Avenue et des maisons victoriennes du voisinage. Il est dit qu'il fut un jour arrêté pour y être entré par effraction.
        Chas Addams est ainsi soupçonné d'avoir croqué un squelette dans son propre garage.
        Il diplôma ensuite de la Westfield High School où il avait été l'éditeur artistique du Weather Vane et suivit trois années d'études supérieures de New York en Pennsylvanie, depuis l'Université Colgate de Hamilton, New York en passant par l'Université de Pennsylvanie, Philadelphie jusqu'à la Grand Central School of Art (ainsi que l'intéressant Walter Tandy Murch et Harold von Schmidt, illustrateur de Death Comes to the Hardbishop par Willa Cather) située au centre-ville de New York, où il clama plus tard avoir passé le plus clair de son temps à observer les gens.
        En 1932, Charles Addams travaillait à True Detective, pulp magazine créé en 1924 par Bernarr Macfadden (chez qui l'on notera la popkultur-isation de certains comportements et pensées de l'anorexie mentale et leur élèvement à un pied d'estale, ou admirera la trouvaille de nouvelles méthodes de santé, au choix) : il avait pour rôle de retoucher les photographies de cadavres, d'en nettoyer le sang, probablement pour les rendre « moralement publiables », et se plaignait que certains cadavres fûssent plus intéressants avant les retouches.
Ce fut cette année que le New Yorker lui acheta un premier dessin, à un prix de 7$50 et publié le 6 Février (à titre de comparaison, sa première illustration de couverture fut achetée et publiée en 1938 par le New Yorker au prix de 175$), suivi de beaucoup d'autres qui furent publiés dès 1933. Il obtint un contrat en 1935.
        En 1942, Random House, Inc. édita Drawn and Quartered (que l'on pourrait traduire par Traîné et équarri ou Traîné et mis en quart), toute première anthologie de ses dessins parus dans le New Yorker ; c'est cette année qu'il rencontra sa première femme, Barbara Jean « Bobby » Day. Il était alors employé par Signal Corps Photographic Center (maintenant Kaufman Astoria Studios) et réalisait pour l'armée des films d'animation d'entraînement militaire.
        Barbara et lui-même se marièrent à l'église de Westfield (ou à l'une des églises de Westfield ?) le 30 Mai 1943 (Memorial Day), s'ensuivit une lune de miel au Pierre Hotel sur la Cinquième Avenue après une réception chez sa nouvelle belle-famille.
Trois ans après son entrée dans l'armée, Addams fut libéré du service militaire : il retourna à sa vie et commença à collectionner les vieilles automobiles, achetant une rare Roadster d'Aston Martin de 1933 et une Bugatti bleue de 1929, du même modèle que celle dans laquelle Isadora Duncan est morte (à moins que ce ne soit dans un Amilcar, voir références plus bas).
Ils s'installèrent dans leur nouvelle propriété victorienne, une ancienne remise sur la Westhampton Beach, et achetèrent pour 14 000$ deux parcelles de terre adjacentes à Dune Road, qui s'étirait de l'océan jusqu'à la baie.
        Addams illustra une nouvelle de Ray Bradbury parue dans le magazine Mademoiselle (c'est à ça que devrait ressembler un magazine féminin, messieurs-dames les éditeurs, faites quelque chose au lieu de ridiculiser tout un genre), la première d'une série chroniquant la vie d'une famille de vampires, les Elliotts. Ils se rencontrèrent en 1946, ils avaient 34 et 26 ans, devinrent amis et pensèrent à collaborer autour d'un livre relatant la vie complète de la famille Elliott, Addams illustrant et Bradbury écrivant, ce qui n'arrivera jamais ; en 2001, Bradbury, qui ne sait pas s'il écrira jamais de suite aux chroniques des Elliotts, fit publier From The Dust Returned par William Morrow and Company, une romanisation (novelisation) autrement écrite dans un anglais très simple, des nouvelles concernant la famille Elliotts, qui depuis étaient parues non seulement dans Mademoiselle, mais aussi dans le Saturday Evening Post ainsi que Weird Tales.
        Il illustra par la suite, en 1950, Afternoon in the Attic, un recueil de nouvelles de John Kobler ; en 1957, l'album Ghost Ballads (depuis tombé dans le domaine public et téléchargeable ici) du chanteur et guitariste folk Dean Gitter, dans un esprit similaire à celui de Murder Ballads de Paul Clayton --par ailleurs, la couverture dessinée par Addams semble être un rapprochement sur la maison représentée dans l'arrière-plan de celle de Murder Ballads.
        Il fut exposé pour la première fois au Metropolitan Museum of Art à l'occasion de l'exposition Bresdin and Other Masters of the Weird (Bresdin et autres maîtres du bizarre) en 1952 et réalisa une fresque, un lavis mural, The Addams Family on Holiday pour le Dune Deck Hotel qui fut plus tard offert à l'Université de Pennsylvanie par ses propriétaires.
        L'année précédente, soit en 1951, Barbara Day demandait le divorce, Charles ayant refusé à la dernière minute d'adopter un enfant, et ainsi alla la vie. Elle se remaria plus tard au chanteur John Hesley.
Il est intéressant de noter que Charles Addams tenait un journal dit « d'amours parallèles » (paramours ; adultères), mais qui apparemment se portait quelques fois à d'autres sujets, concis dans un petit carnet noir ; l'entrée du jour du départ de Barbara est B. A. Leaves, tandis que celle du jour de leur rencontre est Drafted.
        Addams décida d'ajouter un studio de travail à sa propriété d'Hamptons, et sur une parcelle vacante relocalisa une maison de jeu (Playhouse) pour enfant à deux étages depuis son ancienne maison, il y ajouta un vitrail hexagonale, un garage, une coupole et un dock ; au jardin était planté du sumac grimpant, bien encouragé à escalader les murs du petit studio.
        Chas se remaria à l'avocate Estelle Barbara Barb (1920 - 2002) en 1954, année de publication de sa quatrième anthologie Homebodies. Convaincu qu'elle essayait de l'empoisonner, ils divorcèrent en 1956 et Barbara Barb obtint par là une partie de sa propriété, 75% des droits d'auteur de son mari, les contrôlant auparavant et l'ayant (toujours auparavant) poussé à lui en léguer d'autres, ainsi qu'à prendre une police d'assurance de 100 000 dollars. Le 11 Décembre 1956, elle se maria au baron Henry Lennox D'Aubigne Hopkinson (1902 - 1996), premier baron Colyton et pris le titre de Lady Colyton, supposément-je car cela sonnait mieux que Barbare à Barbe.
Addams se déclara chanceux. Elle ne voulait pas d'obligation alimentaire ; juste les droits de ses cartoons.
        Si l'on considère qu'un divorce et une perte de droits d'auteur sont des évènements malheureux, l'on doit considérer qu'obtenir une exposition de ses œuvres est une bonne chose ; c'est donc en 1956 que se tenait l'exposition Chas Addams' New York au musée de la ville de New York (Museum of the City of New York), suivie en 1957 par Addams and Anthropology, au musée de l'Université de Pennsylvanie, en 1965 The Dark Mirror à la Fédération Américaine des Arts de la ville de New York (The American Federation of Arts, New York City) et d'une première exposition solo toujours au musée de la ville de New York.
        Dans le courant des années 1961 et 1962, en artiste accompli, Chas Addams fit don d'un total de 72 dessins au musée de la ville de New York et reçut, de la part de l'association de Mystery Writers of America, un Prix Edgar Allan Poe spécial récompensant l'ensemble de son œuvre.
        Fut publié par Windmill Books, Inc. en 1967 l'un de mes choses préférés de Charles Addams : The Chas Addams Mother Goose ! Il s'agit d'un livre pour enfant, contenant des charades et comptines classiques et traditionnelles, illustrées d'une façon que certains disent décalée, mais personnellement je pense que tous les bouquins pour enfants devraient être un peu comme ça, par, évidemment, Charles Addams. Je dirais que ce sont des illustrations-jeux de mots.

        En 1980 et 1983, Charles Addams reçut un des doctorats honoraires de l'Université de Pennsylvanie puis du Southampton College et participa en 1984 à l'exposition A Year at the New Yorker (Un An au New Yorker) à la National Academy of Design, New York City (Académie National de Design de la Ville de New York).
        C'est aussi en 1980 que Charles Samuel Addams se maria à Marilyn « Tee » Morris Matthews Miller, mannequin pour l'agence Powers, née en 1926.
Addams tomba la première fois pour elle en 1956 (réglé comme du papier à musique, le type) alors qu'elle était enceinte et mariée depuis 1944 à James Earl Webb (1921 - 1997, selon le wiki werelate.org, mais certaines sources dont la Fondation Tee & Charles Addams semblent affirmer que Tee était veuve au moment du mariage, peut-être ai-je mal compris), dont j'ai lu qu'il était un « vieil ami » --d'Addams ou de Tee ?
        Le mariage fut soigneusement préparé et eut lieu dans le cimetière pour animaux de la famille Matthews ; la mariée portait une longue robe noir et un éventail de plumes noires, le mari des lunettes de soleil.
        En 1985, le couple déménagea avec ses animaux dans une nouvelle résidence à Sagaponack, qu'ils appelaient « The Swamp » (Le Marécage). Auparavant, Addams habitait New York et Marilyn en campagne (« country ») ; Charles Addams disait de leur relation qu'elle était civilisée (« Je vis dans la ville de New York. Ma femme habite à la campagne. Nous ne nous voyons que les fins de semaine. C'est bien. » ; "I live in New York City. My wife lives in the country. We see each other only on weekends. It's great." )
        Addams continua à dessiner pour le New Yorker jusqu'à sa mort, le 29 Septembre 1988. C'était une crise cardiaque.
Il est mort dans sa nouvelle Audi, s'étant parqué devant chez lui après avoir rendu visite à des amis, Frank Modell et James Stevenson.
        Tee Addams fit publier The World of Charles Addams, en 1991 et par Alfred A. Knopf, Inc., une compilation de cartoons réunis par elle-même de plus de 300 pages, incluant deux sections en couleurs et un essai biographique. (un essai en mot, non pas une tentative de cartoon biographique)
La même année, elle fit donation de 70 dessins à la New York Public Library qui ouvrit à son troisième étage la Charles Addams Gallery dédiée à une exposition permanente de certains ses dessins.
Tee Addams fonda la Tee & Charles Addams Foundation, localisée dans leur ancienne propriété « The Swamp », mourut en 2002, et c'est ainsi que ce post se termine, car Charles Addams est mort depuis un temps et que c'est une biographie, on ne va pas parler de toutes les expositions qui ont été faites par après.
        Ceci dit, Charles Addams: A Cartoonist's Life, de Linda H. Davis, publié chez Random House en 2006 et The Comic Worlds of Peter Arno, William Steig, Charles Addams, and Saul Steinberg par Iain Topliss, publié en 2005 par JHU Press doivent, je suppose, valoir le coup d'œil. (je ne peux pas vérifier car je ne peux pas les lire

)

Références et choses intéressantes :
www.charlesaddams.com Tee & Charles Addams Foundation ; localisée dans une aile de la maison des Addams. à voir si vous avez l'occasion de visiter New York !
The Addams Family Loses Its Father, Charles, the Great Cartoonist Who Taught America to Love the Macabre Article de Brad Darrach pour le People Magazine Vol. 30, No. 16 du 17 Octobre 1988.
http://www.werelate.org/wiki/ Un wiki généalogique. J'y ai trouvé plein de dates, de noms et de photos intéressantes. Commencez par une recherche sur Charles Addams.
Matthews étant le nom du père de Tee, sa mère doit s'appeler Alice Miller ou Morris s'ils ont chacun gardé leur nom de famille, sachant que la fille elle-même a gardé le sien plutôt que de prendre celui de son premier mari.
http://www.danshamptons.com/content/hamptonstyle/2008/oct_10/addams.html Très intéressant. Sur toutes ces histoires de mariages.
The Addams Family: The Unusual Life of Lady Coylton, Wife of Baron Henry Hopkins by Dan Rattiner Selon d'autres sources, il s'agit du Baron Colyton. Je vote pour une faute de frappe et un remplacement automatique d'une abréviation type LadyC.
http://www.raybradbury.com/images/video/remarkable_man.html Vidéo en .mov de Ray Bradbury parlant de Charles Addams. Sans Flash. Charge un lecteur dans la page.
http://www.raybradbury.com/images/video/when_iwasachild_8.html Vidéo en .mov de Ray Bradbury où il parle de ses inspirations pour From The Dust Returned. Sans Flash.
http://www.indiebound.org/author-interviews/bradburyray Entrevue écrite de Ray Bradbury sur le même sujet.
« When I saw it I realized he was a kindred spirit so we made plans to write a book together. I was going to do the stories, and he was going to do the illustrations. But time went by and we couldn't find a publisher who would pay a little bit of money to him and a little bit to me to proceed with the book. So he went his way and created the Addams Family and I went my own way and created my family in this book. In a way we're quite similar, except finally we separated and he did his wonderful family and made his television show and motion pictures and here I am now very late in time with a somewhat similar family, but not quite as funny! »
http://hipsterdadsbookshelf.blogspot.com/2009/05/world-of-charles-addams.html Revue de The World of Charles Addams en anglais.
http://learning2share.blogspot.com/2009/01/cartoonist-charles-addams-profiled-in.html Article sur Charles Addams dans le People Magazine de 1976.
http://learning2share.blogspot.com/2008/02/charles-addams-master-of-macabre-1953.html Article du 19 Mai 1953 du magazine LOOK sur Charles Addams.
http://forums.autosport.com/lofiversion/index.php/t9925.html Sur la mort d'Isadora Duncan.
« The confusion started much earlier. In 1927 to be exact. Probably some presspeople thought it would add colour to their story when the killercar was a Bugatti in stead of the much more common Amilcar. In fact the the 1928 book about Isadora "The Untold Story" by Mary Desti -friend and chaperone of Isadora- gave food to the idea that it was not a Bugatti. In her description of the car she mentions staggered seats. As far as I know there is no Bugatti with this seat arrangement. »

Thursday, January 6. 2011
Almost called that like the series of posts presumably on Addams, or in commemoration of him, but yeah.
Most of these articles have low correlation with him, poor dude being most known for his cartoons' adaptations than him or his cartoons.
i'd show you that one Chas' cartoon with Poe thinking of possible animal saying "Nevermore!" but Addams' estate don't want these to go all over the Internet or something. Will I be in big troubles if I made some ASCII art out of it and posted it on my Gopherspace?
Thought it'd interest people not in the know that John Astin played Edgar Allan Poe. Addams liked Poe much and here I am talking of Charles Addams in an article speaking not of him ; Astin said in
Addams Family: An Evilution
that everybody always do the Theme of the Original Series whenever he says he played Gomez.
It's also him who played Professor Mortimer Grangreen in all these stories about killer tomatoes (think of it!) and Nelson Halliwell, director of a theatrical adaptation of
Hamlet
, in
Tales of the Crypt
's
Top Billing
(E05S03) episode, which got him nominated for an Ace Award.
So, John Astin played Edgar Allan Poe, in
Edgar Allan Poe: Once Upon a Midnight
, being the only actor, a play directed by Alan Bergmann, written by Paul Day Clemens and Ron Magid, which music was written by Ian Freebairn-Smith and, evidently, unhappily,the play tour ended in 2004.
Edgar Allan Poe: Once Upon a Midnight
told you Poe's life through Poe's eyes, with lot of citations.
Can't buy it anywhere! Not even the script!
Still, its website is
interesting
:
www.astin-poe.com
"I feel that Poe, through his own tortured existence, gained deep insight into the nature of the universe, along with an intense love and appreciation for life itself. Through this play I want to share that impression with others." -- John Astin
Or as we, french people, might say:
« Je sens que Poe, à travers son existence torturée, a gagné une vision profonde de la nature de l'univers, ainsi qu'un amour intense et une appréciation pour la vie elle-même. À travers cette pièce je veux partager cette impression avec d'autres. » -- John Astin.
Isn't that right everything is way cooler in French?
Monday, January 3. 2011
Again, an article on the Addams Family. I'd like to speak of less-known Chas' cartoons, still, and those ones with extra-terrestrials. And these episodes of TV-shows
The Addams Family
,
The New Addams Family
as well as the animated TV cartoons where there are extra-terrestrials. Shit!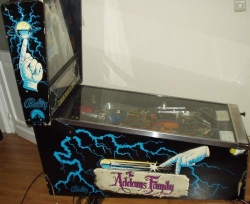 The Addams Family
flipper has been manufactured and produced in March 1992 by Midway Games, Inc. (once Midway Manufacturing, the people behind
Mortal Kombat
, now in bankruptcy) one year after they absorbed WMS Industries Inc.'s video games division, who got in 1988 from Bally Technologies the right to use the brandname Bally as they bought the Bally/Midway Manufacturing division dedicated to pinball; that's for all theses reasons that
The Addams Family
got produced under the brand Bally.
With Raul Julia and Anjelica Huston (Gomez and Morticia in 1991 The Addams Family movie) voice-over, designed and programmed by Patrick M. Lawlor (designing), Larry DeMar (designing and programming, co-designer of arcade game
Defender
with Eugene Jarvis and of
Jack*Bot
with Barry Oursler and Jim Patla) and Mike Boon (programming) while John Krutsch (
Jack*Bot
,
The Twillight Zone
) was filling the technicals as well mechanicals needs and aspects. The music was composed by Christopher P. Granner (who did
Pin*Bot
theme,
The Twillight Zone
flipper music,produced by Midway as well, and the one of
Pinball Magic
from Capcom with Jeff Powell) and the artwork realised by
John Youssi
, who worked for IGT and maybe did the artwork of
The Addams Family
gambling machines, he did the packaging of Yoplait yoghurts and the magical covers of different books including R. L. Stine's.
The Addams Family
is based on Williams Pinball Controller system, who use a Motorola 6809 8-bits as main CPU, as the sound is managed both by main CPU and a ADSP-2105 d'Analog Devices, generated by Yamaha's YM2151 board as well as a DAC and encoded by the Harris HC55536. WPC systems run on an Apple OS. All this making me think there may be a way to use other programs or to program some others for the flipper, but that's not the subject.
This was the only game produced with bot WPC system and Fliptronics I board.
The Addams Family
is then compatible with Fliptronics II board, which only added a diode bridge to ajust the flipper's voltage.
The game offered to score higher than most of those precedently produced, its animations and game modes were really innovative.
It was a big success, with 20 270 units sold on 20 750 produced.
As the production ended, after
The Addams Family
broked every previous Bally flippers sales records, Midway Games Inc. produced 1000 others, the Gold or Special Collectors Edition.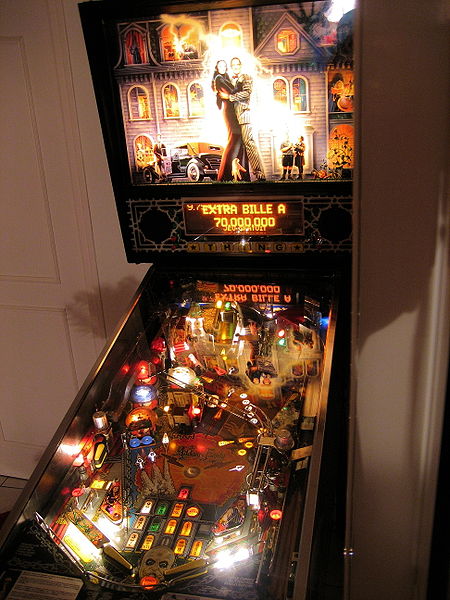 References :
http://en.wikipedia.org/wiki/The_Addams_Family_(pinball)
http://diehardgamefan.com/2011/01/03/diehard-gamefan-hall-of-fame-nomination-addams-family-pinball/
Differences between The Addams Family Gold and regular TAF pinballs
http://www.fliptronics.com/
Official Fliptronics' website
http://www.johnyoussi.com
Official John Youssi website, partially in Flash, where he misspelled Addams Family « Adam's Family ». Just wrote it an email and he said his web designer will correct it and that he loved worked on this game as he was a big fan of the TV series. Can't believe he answered, and that fast!
http://www.pinballnews.com/news/youssi.html
John Youssi's interview where he doesn't talk about The Addams Family.
http://www.flipperfrance.com/forum/viewtopic.php?pid=2460
Forums d'Hydrogenaudio : What makes a DAC better or worse?
Sunday, January 2. 2011
I was writing an article, French only, on Chas Addams, but here is another article for the continuity.
There are slots and gambling machines based on the Addams Family, the first TV-Show and the movies, produced by
International Game Corporation (IGT?)
, aking a minimal bet of 0.05$ or a tokens bet.
There is the IGT Addams Family MegaJackpot based only on the original TV-Show, with John Astin voice-over along with original series music and asking for a minimal bet of 0.05$, and the IGT Addams Family Pachislo Skill Stop Slot Machine, based both on the 1964-1966 series and the 90's movies, playing the movies' music, John Astin voice-over and accepting tokens only.
One of the winners on the IGT Addams Family Megajackpot asks to be called Debbie R.
International Game Corporation apparently created other gambling machines based on The Addams Family, "Market Madness", "Pick to Win", "Fry Fester" and "Cousin Itt", all with John Astin's voice-over.
There is another The Addams Family slot produced byt Barcrest.
First two are IGTs, number two being IGT Addams Family Pachislo Skill Stop Slot Machine, last one is Barcrest.
Références :
http://www.casinos.org/slots/play-addams-family-slots-online
IGT Gambling Machines. (source of first image)
http://www.pinballnews.com/shows/copthorne2004/index.html
Barcrest and IGT gambling machines. (images two and three)
http://www.lasvegassun.com/news/2000/apr/25/regulators-limit-kids-exposure-to-addams-family-sl/
http://www.ildado.com/nevada_casinos_las_vegas.html
Worthopedia : IGT Addams Family Pachislo Skill Stop Slot Machine
Buyable with 800 tokens included.
First Nevada Jackpot on Addams Family Hits at Suncoast.
Saturday, January 1. 2011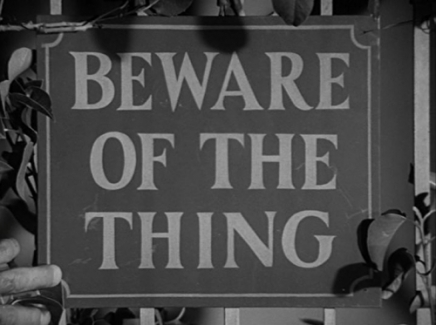 The Thing first appearance was in Charles Addams' 1954 book
Homebodies
. Well, that's not really true as that book is a collection of stuffs he did before for the
New Yorker
or
TV Guide
.
One of Charles Addams' cartoons represents his family's mansion with a sign "Beware of the Thing", which was adapted in the original series while the remake (
The New Addams Family
) has a sign "Beware of Everything".
There is also a second animated series, the one from 1992-1993, episode called "Beware of the Thing", now that I think of it.
They say Thing T. Thing firstly had an all human body and was cut for the series, but I can't verity as I can't put my hand on a Homebodies copy.
Some say that it (not Itt, the Thing) was Morticia's lover and they didn't foresee the fact that it'd still live after being separated from its now defunct owner.
We suppose it's a reference to the legend of Main of Glory, which would be the hand of a hangman or a murdering hand, could open any door and if one made a candle out of the fat, amongst other things, of the once owner of the hand and fixated it to the hand, it immobilize anybody to whom you presented it.
In the episode
Thing is Missing
of the original TV-Show as well as the remake, we can see a photography of Thing's parents, two hands.
Thing had a little romance with Lady Fingers, engaged and promised to wait for her.
Thing started in a box. He was then played by Ted Cassidy or some other member of the crew, mostly Jack Voglin, in the first series and as it will
never
end
(yeah, scared as well that it'll be a cleany cleantsy clean Tim Burton movie, like some of those he did recently) I won't say it ended being played by Christopher Hart or Steven Fox.
References:
addamsfamily.wikia.com
,
The Unofficial Addams Family Web Site
, Wikipedia,
http://www.pitt.edu/~dash/hand.html
.
Interesting stuffs:
making fucking
robotic
hands
, a
thing at editors Springer
(didn't read) about VS
that by Interwebz magics became freely downloadable here
,
The Addams Family Characters: Uncle Fester at Books LLC
(didn't read) and
an author whose nom de plume is Uncle Fester
(gotta read that), seeing the stuffs he speak of in his books I could link you Lucid-State Forum, but that would be dangerous.
The rights to the image used in this post belongs to MGM Home Entertainment.